Environmental Protection Prize - Companies category
KSZGYSZ 2017.
In 2017, the Association of Environmental Enterprises organized the Environmental Protection Ball for the 17th time, which is the most elegant event of the profession. This time the event took place in Hotel Intercontinental, in Budapest. The Ball provided a festive venue for the Environmental Protection Prize Ceremony.
In the category of companies, the Environmental Protection Prize was awarded to Agriapipe Ltd. and the Metropolitan Public Domain Maintenance Nonprofit Plc, for their outstanding environmental developments.
The Prizes were given by V. Németh Zsolt, The Ministry of Agriaculture's State Secretary in charge of environment, agricultural development and a Hungaricums, and Dr. Ágoston Csaba, the President of Association of Environmental Enterprises.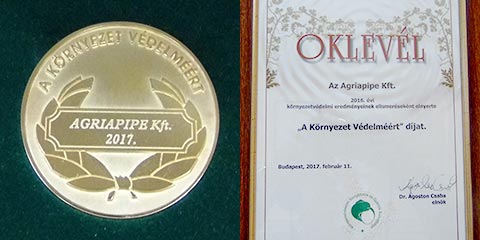 Agriapipe Ltd.
The trouble-free operation of public utilities means an increasing task to the operators of public utility networks, as reparation the faults and reconstruction the pipe section becomes more and more expensive over time.
In addition to being costly, the traditional open-trench replacement, even causes inconvenience and discomfort in the surroundings of the working area. In order to avoid negative impacts on the environment, the so-called "NO-DIG", means trenchless pipe rehabilitation technologies become more and more popular, which are more public- and environmental friendly solutions. The application of Agriapipe Kft. presented the environmental effects of the applied trenchless pipe rehabilitation technologies, compared to the conventional open-trench replacement. Assessing the environmental impact of the"NO-DIG" pipe rehabilitation technologies through a concrete example, it achieved 55% less CO2 emission, while the project was implemented at a lower cost and in a shorter time.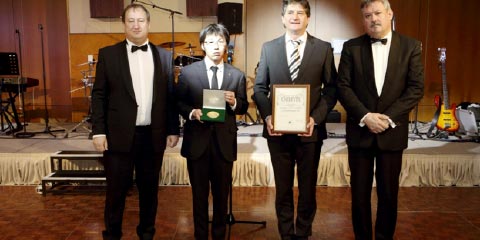 In the picture: Dr. Ágoston Csaba, President of Association of Environmental Enterprises, Tomonori Yamaji, Director of Research and Development of SEKISUI B.V., Varga Zoltán, Managing Director of AGRIAPIPE Ltd., V. Németh Zsolt, State Secretary