Pipe Rehabilitation with CIPP Technologies
CIPP technologies are the group of procedures that use cured in place pipes to rehabilitate deteriorated pipes. We install a liner inside the cleaned pipe section. The liner consists of a textile that is able to carry the resin, resin and a coating. The textile material is installed in the pipe after impregnation with epoxy resin. We keep the liner under pressure until the resin cures. Curing can be achieved by higher temperature or UV light.
We use the Process Phoenix technology. Due to the different hose types this No-Dig technology can be applied to water, gas, industrial waste water and rainwater pipes too.
Tubetex Water
| | |
| --- | --- |
| System | pressure |
| Transported Medium | potable water, industrial waste water, sewage, fire water, oil* |
| Host Pipe material | steel, cast iron, reinforced concrete |
| Diameter | 80-1200 mm |
| Shape | circular |
| Working Pressure | 1-32 bar |
| Fabrication | circularly woven liner with polyethylene coating |
| Comment | internal lining with adhesion |
*applicable with special considerations
Tubetex Gas
| | |
| --- | --- |
| System | pressure |
| Transported Medium | gas |
| Host Pipe material | steel, cast iron |
| Diameter | 80-1200 mm |
| Shape | circular |
| Working Pressure | 1-32 bar |
| Fabrication | circularly woven liner with hyrtel coating |
| Comment | internal lining with adhesion |
*applicable with special considerations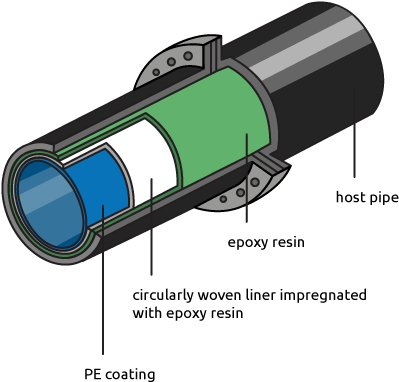 Nordiwall
| | |
| --- | --- |
| System | gravity |
| Transported Medium | sewage, rain water, industrial waste water |
| Host Pipe material | concrete, clay, azbestos cement, KG PVC, cast iron |
| Diameter (mm, for circular profile) | 200-1050 mm |
| Dimensions (mm, for egg profile) | 200/300-900/1350 mm |
| Shape | circular, egg |
| Fabrication | polyester needle felt |
| Comment | internal lining with adhesion |
Nordiwall Flex
| | |
| --- | --- |
| System | gravity |
| Transported Medium | sewage, rain water, industrial waste water |
| Host Pipe material | concrete, clay, azbestos cement, KG PVC, cast iron |
| Diameter (mm, for circular profile) | 150-1050 mm |
| Dimensions (mm, for egg profile) | 200/300-900/1350 mm |
| Shape | circular, egg |
| Fabrication | single or double layer polyester needle felt structure with polypropylene coating, wallthickness from 2.5 to 8.5mm. |
| Comment | internal lining with adhesion |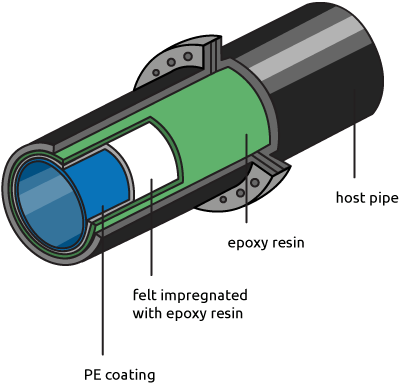 Nordipipe
| | |
| --- | --- |
| System | pressure/gravity |
| Transported Medium | potable water, fire water, industrial waste water, sewage, rainwater, oil* |
| Host Pipe material | steel, cast iron, azbestos cement, clay, reinforced concrete, KG PVC, brick |
| Diameter (mm, for circular profile) | 150-1200 mm |
| Dimensions (mm, for egg profile) | 200/300-900/1350 mm |
| Shape | circular, egg (gravity) |
| Fabrication | polyester needle felt hose with polyethylene coating reinforced with glass structures |
| Comment | internal lining with adhesion |
*applicable with special considerations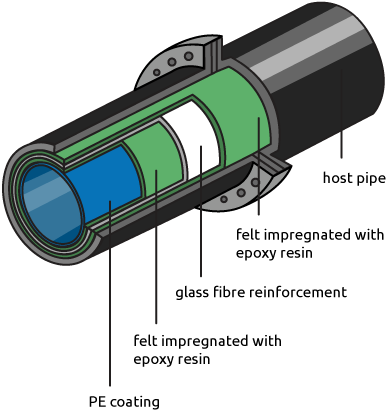 Combiliner
| | |
| --- | --- |
| System | pressure |
| Transported Medium | potable water, industrial waste water, sewage, fire water, oil* |
| Host Pipe material | steel, cast iron, reinforced concrete |
| Diameter | 80-1200 mm |
| Shape | circular |
| Working Pressure | 1-32 bar |
| Fabrication | circularly woven liner with polyester needle felt polyethylene coating |
| Comment | internal lining with adhesion |
*applicable with special considerations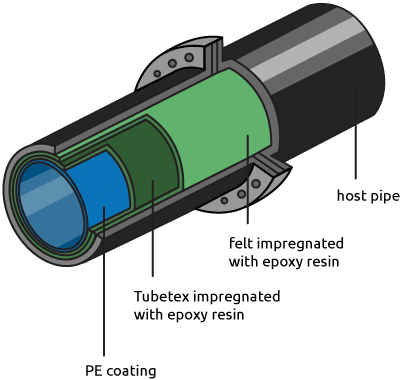 Brawoliner
| | |
| --- | --- |
| System | gravity |
| Transported Medium | sewage, industrial waste water, rainwater |
| Host Pipe material | concrete, PE, KG PVC, clay |
| Diameter | 70-250 mm |
| Shape | circular |
| Fabrication | circularly woven liner with polyurethane coating |
| Comment | internal lining with adhesion |